RECENT FACULTY ACCOMPLISHMENTS TO NOTE: lorrin thomas
Dr. Lorrin Thomas, a Professor of History here at Rutgers University-Camden, has published a new book, Rethinking the Struggle for Puerto Rican Rights, which she co-authored with her Rutgers-New Brunswick colleague Aldo Lauria Santiago. Below is the abstract of the book.
Rethinking the Struggle for Puerto Rican Rights offers a reexamination of the history of Puerto Ricans' political and social activism in the United States in the twentieth century. Authors Lorrin Thomas and Aldo A. Lauria Santiago survey the ways in which Puerto Ricans worked within the United States to create communities for themselves and their compatriots in times and places where dark-skinned or 'foreign' Americans were often unwelcome. The authors argue that the energetic Puerto Rican rights movement which rose to prominence in the late 1960s was built on a foundation of civil rights activism beginning much earlier in the century. The text contextualizes Puerto Rican activism within the broader context of twentieth-century civil rights movements, while emphasizing the characteristics and goals unique to the Puerto Rican experience. Lucid and insightful, Rethinking the Struggle for Puerto Rican Rights provides a much-needed introduction to a lesser-known but critically important social and political movement.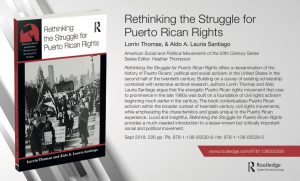 Congratulations, Dr. Thomas! We look forward to hearing of your continued successes.